Resume
Peter Love's Resume in PDF format.
Current Associations and Committees
Elenchus Research Associates – Recently joined this well respected company as an Associate; ERA offers the energy industry strategic advice to manage current risks, and technical support to navigate the complexities of the business and regulatory environments.
Transition Plus Sustainability Coaching  Associate of this leading company that offers sustainability training in the workplace to imbed sustainability in all aspects of an organization's decision making 
Institute of Corporate Directors – Completed the "Directors Education Program" in April 2009 and became a member of the Institute.
Greening Greater Toronto – Founding member of the Greening Greater Toronto Task Force; remains an active member.
National Advisory Committee On Energy Efficiency – Have served on this national committee since 2000, advising the federal government's Office of Energy Efficiency.
Awards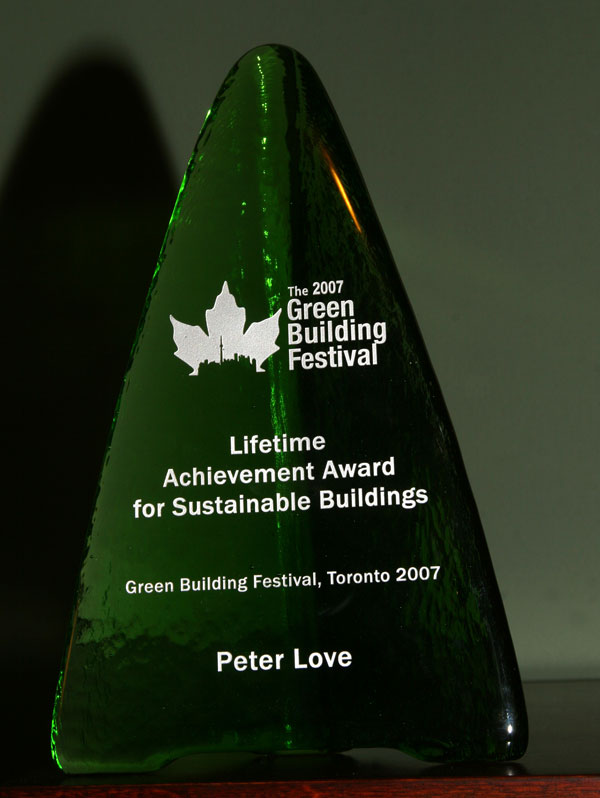 Lifetime Achievement Award for Sustainable Buildings – Awarded in September 2007 at the Green Building Festival for a life time commitment to promoting energy conservation in the built environment.



EnerQuality/R-2000 Hall of Fame – Presented during the Ontario Homebuilders and Renovations Forum in recognition of leadership in creation and management of EnerQuailty Corporation and promoting energy efficiency in new buildings.



Honorary Lifetime Membership – Presented by Non-Smokers' Rights Association in 1982 for outstanding contribution to environmental health and preventative medicine.